Stock Exchange Palace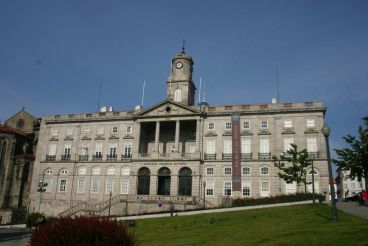 Palace Stock Exchange or Bolsa Palace is located in Porto - cultural center of Portugal. The palace is a UNESCO World Heritage Site.
Bolsa Palace, created in the 19th century, is rightly considered a unique piece of architecture in Portugal. Bolsa Palace - the first thing that guests wish to see Porto. Nations courtyard under a glass dome, Golden Hall, Assembly Rooms and the Tribunal, Arabic hall arabesques in gold - they are all proud residents. In some of the halls of the palace take the Heads of State and prominent figures.
Halls of the palace are decorated with works by famous artists - paintings Joao Marques de Oliveira and Jose Maria Veloso Salgado, sculpture by Antonio Teixeira Lopes, as well as frescoes, furnishings and luxuries of the early 20th century. All this makes the palace so popular among tourists.